We produce customer-focused,customized inspection
and automation equipment.
Our test equipment is intended for high-end items
like mobile phones and semiconductors.
Industrial Automation
Competitiveness to meet
client requirements
Industrial automation is utilized by manufacturers across the globe to increase
productivity, reduce workplace injuries, and streamline processes. Value Plus
offers manufacturers automation that is efficient, flexible, and secure. Our
solutions generate immediate and long-term value by dealing with a vast array
of production tasks as well as capacity, labor, and cost constraints. Expand your
business with Value Plus's industrial automation solutions!
Auto Test System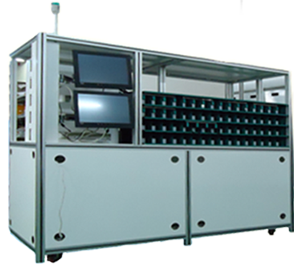 Specifications
Name of Product

SA - 6400
Test & Communication Spec

USB3.0/2.0/1.1 x 64Port

UART 1Mbps x 64port

OTP/Aux-on/Mass Storage x 64port
Application Model

Qualcomm, Agere, NXP, Broadcom, Infineon Etc,
Jmicron, initio, ASMedia
Features
4 Types of LED indication

Stand By (Yellow On) / On test (Green On) / Test OK (Blue On) / Test NG (Red On)
This test equipment has 64 ports
Built-in software makes one operator test 64 phones at one time in a very
efficient & easy way. Thanks to the LED indicator to show Pass(Blue), Fail(Red),
Stand By (Yellow), it is good enough for one operator to proceed the whole test
just by connecting phones into the ports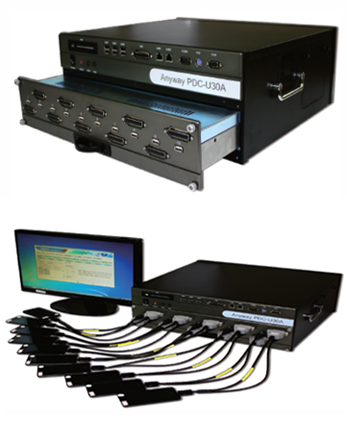 Specifications
Name of Product

Anyway PDC-U30A
CPU

Intel i5 760, 2.80 GHz 8M
RAM

Samsung 4GB (2 x DDR3 2GB, 1.333MHz)
I/O Communicating

1 x 3 PCIe Interface, 10 x USB 3.0, 10 x RS-232C
I/O

6 x USB 2.0, 1 x Power LED, 1 x HDD LED, 1 x Reset Button, 1 x Power SW, 2 x GbE LAN, 1 x DB15 VGA, 1 x PS/2 KB'D & Mouse, 1 x RS-232C, 1 x Jig Status LED Interface
Intel i5 760, 2.80 GHz 8M
Features
4 Types of LED indication

Stand By (Yellow On) / On test (Green On) / Test OK (Blue On) / Test NG (Red On)
This test equipment has 64 ports
Built-in software makes one operator test 64 phones at one time in a very
efficient & easy way. Thanks to the LED indicator to show Pass(Blue), Fail(Red),
Stand By (Yellow), it is good enough for one operator to proceed the whole test
just by connecting phones into the ports